Adam Fitzgerald
Adam Fitzgerald
(12/30/1983 / Staten Island, New York)
Biography of Adam Fitzgerald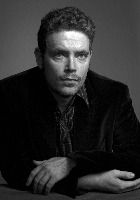 Adam Fitzgerald (born December 30, 1983) is an American poet. He is the author of The Late Parade, and his poetry has appeared in Boston Review, Fortnight Journal, Los Angeles Review of Books, Post Road, Rain Taxi, The Brooklyn Rail and many others. Fitzgerald is the founding editor of the poetry journal Maggy. He teaches at Rutgers University and The New School.

Adam Fitzgerald received his BA from Boston College and his MA from Boston University before earning his M.F.A. from the Columbia University. His first book of poetry, The Late Parade, was published by W.W. Norton/Liveright in 2013; the book has received positive reviews from John Ashbery and Harold Bloom, among other notable figures in the literary world.
Saint Christopher
Striated in folds, his red gown flows
Like a firemuscle dipped to a flamelip,
While featherlegged, lame and limp his toes
Writhe wearily wave-enrhythmed steps, chipped

Foot he crosses with, among gold minnows
Mocking him in nimble dance, jubilant.
Anguished, his brown eyes close in lead repose.
And all is gold, barren and opulent.