Adrian Henri
Adrian Henri
(10 April 1932 - 20 December 2000 / Birkenhead, Cheshire)
Biography of Adrian Henri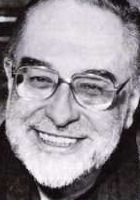 Adrian Henri was a British poet and painter, best remembered as the founder of poetry-rock group The Liverpool Scene and as one of three poets in the best-selling anthology The Mersey Sound, along with Brian Patten and Roger McGough . The trio of Liverpool poets came to prominence in that city's Merseybeat zeitgeist of the 1960s and 1970s. He was described by Edward Lucie-Smith in British Poetry since 1945 as the "theoretician" of the three. His characterisation of popular culture in verse helped to widen the audience for poetry among 1960s British youth. He was influenced by the French Symbolist school of poetry and surrealist art.

Adrian Henri's grandfather was a seaman from Mauritius who settled in Birkenhead, Cheshire, where Henri was born. In 1938, at the age of 6, Henri moved to Rhyl. Henri studied art at Newcastle and for a short time taught art at Preston Catholic College before going on later to lecture in art at both Manchester and Liverpool Colleges of Art. He was closely associated with other artists of the area and the era including the Pop artist Neville Weston and the conceptual artist Keith Arnatt. In 1972 he won a major prize for his painting in the John Moores competition. He was president of the Merseyside Arts Association and Liverpool Academy of the Arts in the 1970s and was an honorary professor of the city's John Moores University. He married twice, but had no children.

His career spanned everything from artist and poet to teacher, rock-and-roll performer, playwright and librettist. He could name among his friends John Lennon, George Melly, Allen Ginsberg , Willy Russell, John Willett, and Paul McCartney. Unlike McGough and Patten, Henri turned his back on the trendier London scene, and chose to remain in Liverpool, saying there was nowhere he loved better.

His numerous publications include The Mersey Sound, with McGough and Patten—a best-selling poetry anthology that brought all three of them to wider attention—Wish You Were Here and Not Fade Away.

He was the leading light of a band, The Liverpool Scene, which released four LPs of poetry and music. Earlier, in 1955,he played washboard in the King's College, Newcastle Skiffle Group. He was a firm believer in live poetry reading, and read his poetry at many and varied venues as well as holding poetry workshops at schools and colleges. One of his last major poetry readings was at the launch of The Argotist magazine in 1996.

He died in Liverpool aged 68 following a long illness. Shortly before his death, he was awarded the Freedom of the City of Liverpool in recognition of his contribution to Liverpool's cultural scene. He also received an honorary doctorate from the University of Liverpool.

He described his early philosophy as, "If you think you can do it and you want to do it — then do it."

Adrian Henri's Works:

The Mersey Sound, cowritten with Roger McGough and Brian Patten (1967)
Wish You Were Here (1990)
Not Fade Away (1994)

Poetry Albums

The Incredible New Liverpool Scene (As the Liverpool Scene 1967)
The Amazing Adventures Of (As the Liverpool Scene 1968)
Bread On The night (As the Liverpool Scene 1969)
St. Adrian & Co., Broadway and 3rd (As the Liverpool Scene 1970)
Heirloon (As the Liverpool Scene 1970)
This page is based on the copyrighted Wikipedia Adrian Henri; it is used under the Creative Commons Attribution-ShareAlike 3.0 Unported License. You may redistribute it, verbatim or modified, providing that you comply with the terms of the CC-BY-SA.
Liverpool Poems
I

GO TO WORK ON A BRAQUE!

2

Youths disguised as stockbrokers
Sitting on the grass eating the Sacred Mushroom.