Biography of Aiyanna Ortiz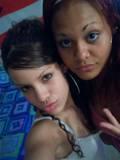 Im not the average girl i go beyond the call of duty to make myself happy. Why should life be full of drama that in the end is worthless to worry and stress over. I stay out of conflicts as much as possible when i am pulled into one that person never forget the words that come from my mouth all the truth and if the truth hurts that much then maybe you should change your life. My thoughts are different then most and now i will share then with you. Bare with me they maybe far off but the meaning behind it once you read them are huge.
This page is based on the copyrighted Wikipedia Aiyanna Ortiz; it is used under the Creative Commons Attribution-ShareAlike 3.0 Unported License. You may redistribute it, verbatim or modified, providing that you comply with the terms of the CC-BY-SA.
Path to my soul
The path to my soul is not threw my stomach
if you look closely into my eyes you still wouldn't know anything about me
the start is to read my thoughts and the way i think
evil dwells inside of me grim views of the world
just sit inside my mind waiting to come out
while your running your mouth on the phone I've all ready thought
of ten ways to kill you and not be traced
grim view of life is what makes me emotionless
you may think it will hurt my feelings about something