akachukwu chukwuemeka ( akabeks)
akachukwu chukwuemeka ( akabeks)
(23/06/1971 / Mgbowo, Enugu State, Nigeria.)
Biography of akachukwu chukwuemeka ( akabeks)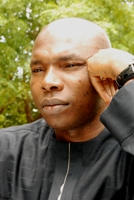 He is a graduate of Fine and Applied Arts, University of Nigeria, Nsukka 1997/98 majoring in painting.He is currently a Post Graduate Diploma student of Gender Studies at University of Abuja.
Where We Stand
In this desert we stand,
Forward is as far as backward.
Hope,
That antidote for unseen tomorrow green,
Has become a desolate yesterday dry.
Nothing remains,
but dust and, the wind.