akachukwu chukwuemeka ( akabeks)
akachukwu chukwuemeka ( akabeks)
(23/06/1971 / Mgbowo, Enugu State, Nigeria.)
Biography of akachukwu chukwuemeka ( akabeks)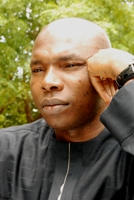 He is a graduate of Fine and Applied Arts, University of Nigeria, Nsukka 1997/98 majoring in painting.He is currently a Post Graduate Diploma student of Gender Studies at University of Abuja.
Love Wish
If I were a musician,
You, my love, will be my voice, my piano,
You will be my dance.

My lyrics, your sensuous body will provide
The rhythm.
I will croon your name at midnight blues,
I will sing your romance in the mornings.

If I were a musician, my love,
You will be my album; my best track,
my only song.