akachukwu chukwuemeka ( akabeks)
Biography of akachukwu chukwuemeka ( akabeks)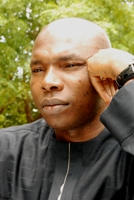 He is a graduate of Fine and Applied Arts, University of Nigeria, Nsukka 1997/98 majoring in painting.He is currently a Post Graduate Diploma student of Gender Studies at University of Abuja.
Fantasy
She carries her tender front firm and innocently.
De flowered, has emerge dazzling
With panache…,

She is full of energy, equitably distributed and,
Like the caressing breeze, she erotizes sensations.

The moon dwell in her eyes, her voice is love songs.
She gives me imaginations; she gives me hallucinations.