Alicia Meyers

(Greenville, South Carolina)
Biography of Alicia Meyers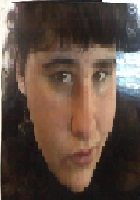 My name is Alicia, I'm 15 years of age, and my dream is to become an author.
I started writing my very first book (not really good *lol) at age 12, and I published my very first collection of poems at age 13. I've been writing poetry ever since I could remember. When I was old enough to understand pieces of poetry and know what's going on in a book, I fell in love with the idea of becoming an author someday. You can read chapters of books on facebook; Alicia M. Meyers's Author page.
This page is based on the copyrighted Wikipedia Alicia Meyers; it is used under the Creative Commons Attribution-ShareAlike 3.0 Unported License. You may redistribute it, verbatim or modified, providing that you comply with the terms of the CC-BY-SA.
I Am Free.
I walk around the school,
Like I'm so invisable,
I don't have friends,
So I'm all alone.
People stop and stare,
I just ignore,
But when someone says an insult,
I pretend I didn't hear.
I cry in the dark,