Alison Cassidy

(6th August,1945 / Melbourne, Australia)
Biography of Alison Cassidy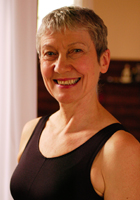 The urge to create is universal. As a yoga teacher, I have been tapping into this universal source for more than twenty years and as an actor, since the tender age of five.

In May 2006 I wrote my first poem, inspired, I suppose, by the same spirit that has driven my yoga and creative dance classes for so many years. Experience is slowly teaching me about the technique of writing poetry and giving me the confidence to experiment with different forms, but the initial creative springboard has never changed and continues to fill me with awe.

I feel humbled when I read comments on my work and excited when I am able to offer the occasional insightful one on other people's. I am far less judgmental than when I first joined the site.

My favourite poet is still William Shakespeare and I continue to visit my beloved Jerry Hughes' words when I need a refreshing clarity of vision and absence of bullshit.

My website is kumbada.com.au
This page is based on the copyrighted Wikipedia Alison Cassidy; it is used under the Creative Commons Attribution-ShareAlike 3.0 Unported License. You may redistribute it, verbatim or modified, providing that you comply with the terms of the CC-BY-SA.
Yes
I remember your velvet tongue persuasive,
your velvet hands, insistent,
exploring those parts of me
I so wanted to know, but
felt too shy to share.

I remember the child of me
and the man of you, .
and that moment of surrender
when I yielded to your touch
and answered 'Yes'.