Biography of Amelia Patterson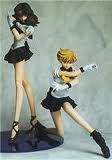 Drawn lots of manga and anime fan art. Favorite: Sailor Moon and Death Note. Written some poems and short stories. Livin as best I can! ! ! ;) Love u like nobody's business David! ! ! XOXOXO I am ALWAYS thinking of u!
Nightmare In The Morning
Nightmarish fiends surround me as I run down the hall.
FASTER! FASTER!
GO LEFT! NO, GO RIGHT!
My mind argues as my head swirls in a vortex of darkness.
I go right.
It's getting harder to run
as I carry a sledgehammer
down
what seems to be a mansion of darkness.