Biography of Ana Lia Zaldivar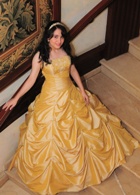 Well I'm a fifteen year old girl.. I live in Honduras, San Pedro Sula. Since I was 13 I fell in love with my best friend, and it came out he was also in love with me... we both had this amazing relationship, even with the families.. But then after two years things started to change.. we chose different ways, and well it is one of the worst experiences I have ever had, his lust... But even though all this happened, he is still my best friend, so all of these inspired me to write, and it also guide me to grow up to learn how to live life, and not regret but learn.. now my poems are just a way of running away from my feelings... just thoughts..
This page is based on the copyrighted Wikipedia Ana Lia Zaldivar; it is used under the Creative Commons Attribution-ShareAlike 3.0 Unported License. You may redistribute it, verbatim or modified, providing that you comply with the terms of the CC-BY-SA.
What I Gave to You
I gave you my hand, you took my heart.
I gave you a life, you took my own.
I gave you my love, you converted it in to hate.
Why is it that after all I gave, you continue on distroying what is left?
And I still want to give you more...



January 5,2009