Biography of Argentine Tango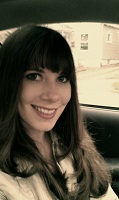 My name is Amanda and I studied Neuroscience and Spanish at the University of Michigan. I hope to someday become a Physician Assistant. In my free time as you might have guessed, I love to dance the Argentine tango. This dance is its own language, its words gracefully painted on the dance floor, and has really inspired me in all areas of my life including my poetry. I've loved reading and writing since I was a little girl, so I'm happy to now be sharing some of my poetry with all of you, welcome your feedback, and look forward to reading your work as well!
This page is based on the copyrighted Wikipedia Argentine Tango; it is used under the Creative Commons Attribution-ShareAlike 3.0 Unported License. You may redistribute it, verbatim or modified, providing that you comply with the terms of the CC-BY-SA.
A Heart So Hollow
Oh how graced I must be to walk the hallowed halls
of that thing you call a heart.
A cold draft follows me out, for even the air is stale
and needs an escape.
Who knew one could contain so deep a chasm in one's chest.
A canyon for the viewing of passerby.
So hollow, the rhythmic beating resounds in ears miles away.
A drum of warning, come no closer,
for you might fall in. In fact, you may never hit bottom.