Asif Andalib

(27 November 1967 / Moez Monzil, Komlapur, Faridpur, Bangladesh)
Biography of Asif Andalib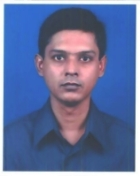 I was born on 27 November in 1967 at Moez Monzil, Komlapur, Faridpur of Bangladesh. I write poems and lyrics both in English and Bengali. I prefer Free Verse, Rhyme, Mono Rhyme and Haiku to other forms of poetry.

I was literature editor of a cultural organization "Oniketh" (which means Homeless) . Later I served as its general secretary. I worked in a private company "Macro International Limited" situated at Dhaka, Bangladesh as business coordinator for more than a decade. Now I spend most of times writing poetry.

Sometimes I emphasize on the message, not on the structure, meter and rhythm of the poems. I write poems especially to deliver messages be it like a thesis.

Asif Andalib's Works:

None yet.
This page is based on the copyrighted Wikipedia Asif Andalib; it is used under the Creative Commons Attribution-ShareAlike 3.0 Unported License. You may redistribute it, verbatim or modified, providing that you comply with the terms of the CC-BY-SA.
No More War
No more war, please
Please no more war
No more bloodthirsty leader, please
Please no more bloodthirsty leader
No more humanity's slaughter, please
Please no more humanity's slaughter
Learn to love, please
Please learn to love.