Biography of Bethany Williams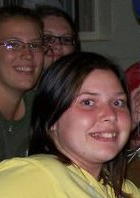 My name is Bethany and I'm 21 years old. I love to write poems whenever I can. If you read my poems can you please leave a comment. I love to read readers comments. It makes me feel like that people really do like to read what I have to say. I pretty much write poems on how I feel in my life. You can say its more like a journal. But anyways thanks for stopping buy.
This page is based on the copyrighted Wikipedia Bethany Williams; it is used under the Creative Commons Attribution-ShareAlike 3.0 Unported License. You may redistribute it, verbatim or modified, providing that you comply with the terms of the CC-BY-SA.
What?
As a little girl crying for her parents to come home
That she doesn't know yet that her parents are dead
The police has not found any leads
Who will take care of this girl and to feed
The parents are now in their tombs forever

The girl weeps and weeps for her parents to come back
She knows that her parents will never return home
Always waiting for her parents to call the phone