Bethany Williams
Bethany Williams
(10-11-1992)
Biography of Bethany Williams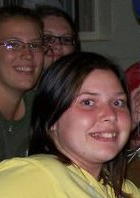 A little about myself I'm 22 years old. I have been writing poetry since I was 16 years old. I have wrote a lot of free style poetry. But, the work that I have been writing here lately are not freestyle. I want to try some new things to actually get my mind to think about what I write. I really do hope that you will enjoy my poetry. Thanks again. Feel free to send me a message but nothing to another site alright.
Coming To An End
What do you say when you are dying?
What do you do if your a vampire?
You tell yourself a tale which is lying.
Well you have to try find an empire.

Slowly your body becomes the monster.
You yell in such matter that your dead.
You finnaly want to ride the dragster.
Playing in fields something falls! Your head!