Binoy Barman

(May 14,1969 / Narayanganj)
Biography of Binoy Barman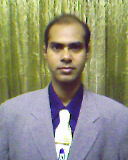 MA in English from the University of Dhaka. MPhil in Semantics and PhD in Syntax. Now working at Daffodil International University in Dhaka, Bangladesh as the Assistant Professor and Head, Department of English. Especially interested in language and literature. Writes regular column in Star Campus magazine of The Daily Star.

Binoy Barman's Works:

1. Chomskyo Byakaran (Oitijjha,2007)
2. ELT Theory and Practice (Friends Book Corner,2006)
3. Language: Grammar, Reading, Writing and Comprehension (Friends Book Corner,2005)
4. Basic Language Skills Practice (Friends Book Corner,2004)
5. Chhara Jato Kara (Kathaprakash,2004)
6. Habijabi (Nandini Sahitya O Pathchakra,2002)
7. Dwelling (Asia Publications,2000)
8. Himu Has Got Some Blue Lotuses (Dibya Prakash,1998)
This page is based on the copyrighted Wikipedia Binoy Barman; it is used under the Creative Commons Attribution-ShareAlike 3.0 Unported License. You may redistribute it, verbatim or modified, providing that you comply with the terms of the CC-BY-SA.
Night
The moon blazes like the sun and
Butterflies are crazy in the lap of flowers
Can you remember the beckon of her hand?
Heart a desert full of thirsty showers.

Rustling leaves play with dream
A bunch of shadow in her palm
The big snake of river flow upstream
Waves of youth sing cool and calm.