Blessing Ekpe
Blessing Ekpe
(7 may / Nigeria)
Biography of Blessing Ekpe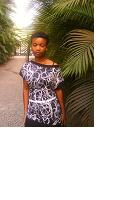 i am an expressive writer........ writing poetry is strictly a thing of the spirit beyond the existential concerns of here and now...i love to play more with feelings, words, nature, and simplicity...........

welcome to my pages...I'm honor to all who read me and encourage me.

.........come travel with me, with the light.See the LIGHT!
Womanhood
Today girl is tomorrow mother/wife
The clapping sound of bare feet, soon replaced by the sound of sharp heels and strong gaits.
Daddy sweetest pie will soon be some one's sweetheart...lol
She makes the steps that lead to womanhood one day at a time
She will not escape challenge, she must be a fighter...

The uncertainty of tomorrow causes men to seek GOD who can see...
Where men frail eyes are too weak to venture
Who can see tomorrow but the one who hold's in his hand?