Blessing Ekpe
Blessing Ekpe
(7 may / Nigeria)
Biography of Blessing Ekpe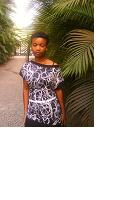 i am an expressive writer........ writing poetry is strictly a thing of the spirit beyond the existential concerns of here and now...i love to play more with feelings, words, nature, and simplicity...........

welcome to my pages...I'm honor to all who read me and encourage me.

.........come travel with me, with the light.See the LIGHT!
New Poems
Song
In majesty you breath,
In loving you liberally give.
In embrace you smoothen and heal.
Victory is reconded before war.

Breath, that open the gate to freedom.
Hands that heal and comfort.
Soaring with the spirit of song.
Liberated into the warmth of reality,
Where dreams are birthed and achieve.