Bob Blackwell
Bob Blackwell
(29/5/1936 / Wales)
Biography of Bob Blackwell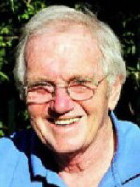 I have always had an urge to write but it was only recently I convinced myself that I could. The poems on this site are my first attempts. I prefer to write in prose to rhyme. I intend to continue as it has given me more pleasure than anything else I have experienced. I strongly believe that we are all citizens of this world and we all deserve a fair chance at its spoils. If we take time to enjoy each moment as it comes we will all notice that we live in a wonderful world. I am interested in both Western and Eastern Philosophy, I am in love with nature and spend as much time as possible outdoors, inhaling the natural air and beauty all around.
What Words Can Do
Are you ready for dictation?
Then listen to creation,
Slowly words that reach fruition,
Find a way to your location.

Quickly one by one they
Swiftly take possession,
One by one they hurry by,
Seeking out their destination.