Brenda Arroyo
Brenda Arroyo
(6/10/1992 / Modesto CA)
Biography of Brenda Arroyo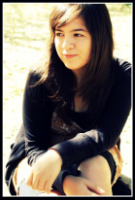 When I write, I clear my mind...
I do and say everything that I was afraid to accept while awake, in my Conscious self, surrounded by the world around me...

I guess my explaination of it doesn't make sense on account of, when I write, I am awake, in my Conscious self, and surrounded by the world around me...
But most of what I know and what I am doesn't make sense either...
That's what's beautiful about it all, I suppose...
I discover things as I go... even if explainations are down to a minimum...

I am a human that's being...
What more can I say?
Alot I guess.
But I'm just one of those people that has to be known through people to people interaction...

I will say this:
I like to smile... It's a lovely feeling.

Myspace me at:
myspace.com/brenda_saidwhat

Brenda Arroyo's Works:

I've had my poetry published numerous times but no books yet...
The farthest I've gone with books was for nanowrimo.
But given time- I'll have books out there.
Just wait and see.
=]
Something To Remember
Everything was soft that day...
Like the color of grace or
The scent of mercy.
The air, the sun, and the wind were all soft.
So soft, that summer's heat melted into my hair as I tried not to be.
And as I roamed about all those empty faces,
I could not help but to not think at all...
For I was empty too.