Biography of Brian Taylor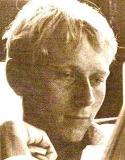 Brian Taylor is a poet and philosopher presently living in Cornwall, England and the Far East.

www.universaloctopus.com

Brian Taylor's Works:

POETRY
'Blondin & Other Poems' (2006)
'Bamboo Leaves' (2007)
'Oxford Poems' (2008)
'Blindness-Kindness' (1968)
'Going Out There is No Other' (1995)
'Coming Back There Is No Trace' (2005)

SPIRITUALITY
'CENTRE The Truth about Everything' (2011)
'Vajras Dorjes' (2011)
'The Universal Octopus & Mr Tao' (2013)


BASIC BUDDHISM
'Basic Buddhism For A World In Trouble' (2006)
'Dependent Origination' (2009)
'The Ten Fetters' (2010)
This page is based on the copyrighted Wikipedia Brian Taylor; it is used under the Creative Commons Attribution-ShareAlike 3.0 Unported License. You may redistribute it, verbatim or modified, providing that you comply with the terms of the CC-BY-SA.
OXFORD: MICHAELMAS
Christ Church meadow
is awash with driving rain
and a wind which bites the skin
and chills the blood within.
Its paths are sticky, yellow mud.
And the Cherwell, brown and dull,
slips ever higher.
Ducks, moorhens, squirrels
endure it.