Biography of Brian Wake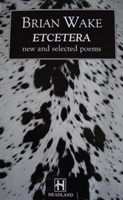 Writer, publisher and promoter of poetry for many years.8 books of poetry published. Work broadcast and published internationally.
Organised poetry events and open mic sessions for Sefton Council in Merseyside. Readings have involved
most of the biggest names in contemporary poetry.
Most recent publication, 'Etcetera - new and selected poems.'
Read at poetry events and readings throughout the UK.

Brian Wake's Works:

Ghost Of Myselves (Second Aeon 1968)
Stars (Driftwood 1972)
Doing Nothing (Windows 1975)
Into Hiding (Headland 1992)
Unbuilding The Ark (Headland 1998)
Raining Upwards (Driftwood 2000)
So What ((Driftwood 2003)
Etcetera (Headland 2011)
This page is based on the copyrighted Wikipedia Brian Wake; it is used under the Creative Commons Attribution-ShareAlike 3.0 Unported License. You may redistribute it, verbatim or modified, providing that you comply with the terms of the CC-BY-SA.
LEADING THE BLIND
Blind himself, so Samson's dog made absolutely no concession
to the dark, but would cross, and bark, the river on a bridge of crocodiles
with neither he nor they aware that either he or they were there.

Without him I'd be lost, said Samson to a passing slave, without him
there would be no morning walks along the mountain paths, no respite
from my infinite regret, or time to contemplate how those I loved continue
now to live out their existences in harmony with everything but me.