Biography of Bruce Larkin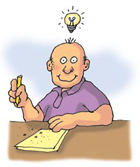 Bruce Currently makes his living as a juggler, physicist, and professional mutterer. When Bruce Larkin was 11 years old, he was struck by lighting while riding his unicycle. Even though that lightning bolt stimulated the part of Bruce's brain which writes funny poetry, it also threw him off of a cliff into the wagon of a passing Gypsy caravan. Bruce has never seen his family since that day. He is hoping to use his poetry to be reunited with his 23 brothers and sisters. Each of his poems contains a sophisticated code which will hopefully allow Bruce to rejoin his 23 siblings. If you recognize any of the code in these poems, please sit on a bench in Central Park next Tuesday morning at 10am. Bruce will then approach you and mutter some physics equations while juggling chainsaws. He will know if you are one of his missing brothers and sisters by your response.

Visit Bruce when you get a chance at www.brucelarkin.com
This page is based on the copyrighted Wikipedia Bruce Larkin; it is used under the Creative Commons Attribution-ShareAlike 3.0 Unported License. You may redistribute it, verbatim or modified, providing that you comply with the terms of the CC-BY-SA.
I Met a Celebrity
My family went to Hollywood.
There were plenty of things to do.
I decided on that trip
To make one of my dreams come true.

It was hot outside,
But I was looking cool,
Sitting in a chair
Right beside the pool.