Captain Cur
Captain Cur
(England)
Biography of Captain Cur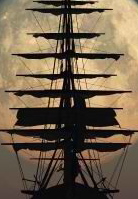 Captain Cur
Captain of the Malevolent.
Profession, Pirate.
Poetry translated from his encoded diary. The spirit of Captain Cur has commissioned this translator, with the help of the Captain's impish Muse, to give good account of his writings, loves and adventures. The problem is the Muse, who calls herself, 'Baharia Msichana' which means, sailor girl, but she prefers 'Pirate Girl' insists I write her love poems, which she will not allow me to publish, or she will not help me decipher his diary. Captain Cur inhabited this sphere sometime between the mid to late 1600's and possibly the early 1700's. His diary was heavily damaged after the wreck of the Malevolent, his exact date of death remains unknown. Allusions to his alter ego, "the beast" is heavily layered throughout his prose. His tales of adventure appear to encompass both the real and spectral world. The Captain's spirit continues to pen in his diary and has much to say about our modern age. It's complicated, but fun. So I hope you enjoy the voyage!

Rearing in the ocean the black stallion on the waves
gripping the reefs shoreline with her talons and her bays
gleaming in moon shower as she soaks the sunless rays
hungry haunting hunter as her flagstaff shadows day.
From: Black Stallion on the Waves, Pirate Adventures (3)

Lightening shears the darkened skies
exposing faceless demons
whose voices roll and echoes long
express their morbid treason
against god, against man,
as they mount each rising swell
that smashes down my stricken ship
with the waterfalls of hell.
From: Demon Seas, Part 2

She appeared in white mountain drifting clouds
a sleeping child curled tightly in her wings,
ice tip blues arose and trimmed her layered shroud
encased in stars crowned by planet rings.
From: Heart of Isle Curdi, Pirate Adventures (7)

Canvassing the forgotten sands
of centuries shipwrecked by war,
I call to time and make demand
and push back the blood soaked door.
From: Malevolent Rising, Pirate Adventures (1)

Central Park, summer days,
Films, bookstores, theater, plays.
Diamond district, restaurant guides,
Nostalgic horse and carriage rides.
From: New York City Day and Life

Unleashing my soul, victim, I am doom!
Unease persists; raw nerves duel deep inside,
coward sun fails, breeds blood lust freakish moon
glowering bares upheaval in my eyes.
From: Freakish Moon, genre poems

Dense fractal wings, twin bodied beast heralding sunrise;
archers stretch their bowstrings length stone tipped arrows fly,
mystic lion, regal fleshed in monolithic birth,
harnessed pewter saddle rolls, evading slings from earth.
From: Armored Hawk of War

         
Captain Cur
My pirate's flag is wars invitation,
of black canine flesh and blanched human bone.
Flown on rags that defy the nations
atop weathered planks I walk alone.

Native bride, you stand adorned before me,
with salt stained cheeks and moonlit eyes.
My vessel's pride is honed by the cruel sea;
her tall masts reach toward brutal skies.