Biography of Carolyn Brunelle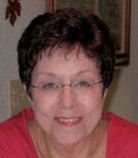 I'm 66 yrs. old, married 46 years to my high school sweetie; living in the northern Sacramento Valley of California, USA.
I love and enjoy my family, my computer, writing, photography, computer graphics and just being anywhere with my soul mate hubby. Come visit my webpage:
http: //www.daysofautumn.com/
This page is based on the copyrighted Wikipedia Carolyn Brunelle; it is used under the Creative Commons Attribution-ShareAlike 3.0 Unported License. You may redistribute it, verbatim or modified, providing that you comply with the terms of the CC-BY-SA.
People who read Carolyn Brunelle also read
Brave New Spirits
Small little minds follow someone else's rules
in devotion to minutia, the favored tools
of perfectly controlled order, all just so so;
a strangulation of spirit and life's natural flow.

Asked not to think, but merely to conform,
how refreshing and beyond the norm
when brave new spirits dare to be free
of what others say they should be.