Charles Simic
Biography of Charles Simic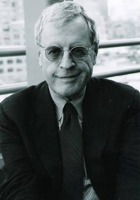 a Serbian-American poet, and was co-Poetry Editor of the Paris Review. He was appointed the fifteenth Poet Laureate Consultant in Poetry to the Library of Congress in 2007.
New Poems
My Shoes
Shoes, secret face of my inner life:
Two gaping toothless mouths,
Two partly decomposed animal skins
Smelling of mice-nests.

My brother and sister who died at birth
Continuing their existence in you,
Guiding my life
Toward their incomprehensible innocence.