Cheryl McDonnell
Biography of Cheryl McDonnell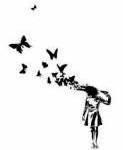 I'm Cheryl,24 years old and from England. I have always enjoyed reading and writing, probably since I became aware of words and how they clicked perfectly in love with each other in a great poem.

I encourage critics to be honest about my works, everyone has room for improvement and I do not fear advice.

I hope you enjoy reading.

Cheryl.
Hopscotch Eulogy
Up with the slow the quick and the dead
Over the tiles and off with their heads
Innocence is the devils smile
One leap be a thousand miles

Come along now for we are late
Might just miss that special date
I remember the shop window
The beekeepers shop in the December snow