Biography of Chris G. Vaillancourt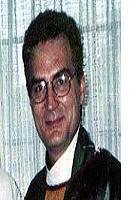 Over 200 of my poems have appeared in more than one hundred journals in the U.S. and Canada, in Japan and Australia, and the U.K, including: Real Angry Poets, Quills, Unfeigned Coffee Fiend, Detour Memphis, Why Vandalism? ! , Plum Ruby Review, Vox Poetica, Outcry, The Hudson Review, Whisper, Poetry Space, Dangling Verbs, Writers Forum, Poesie, Cafe Del Soul, South Jersey Underground-Issue 6, Protest Poems, Poetry Stop, P&W, elffin&elffa; , and many others. I have had a series of chapbooks published in the 1980's by 4 Winds Press, such titles as 'Doors and Windows', 'Dancing in the Eighties' and 'Slow Burn'. I have had six poetry books published, 'Teardrop of Coloured Soul' 'I Walk Naked into a Cloud', 'the Rushing Stream of Desires', and 'A Yellow Sunshine Night'.'The Sleeping Clouds Dangle Like Rocks In The Skies' and 'When The Rain Evaporates With Silence'

Chris G. Vaillancourt's Works:

'Slow Burn' (Lorrah & Hitchcock) 1988
'Teardrop of Coloured Soul' (Publishamerica) 2005
'I Walk Naked Into A Cloud' (Publishamerica) 2009
'The Rushing Stream of Desires' (Publishamerica) 2010
'A Yellow Sunshine Night' (Mahogany Rain) 2010
'The Sleeping Clouds Dangle Like Rocks In The Skies'(Mahogany Rain) 2012
'When The Rain Evaporates With Silence'(DIP Publishing House) 2013
This page is based on the copyrighted Wikipedia Chris G. Vaillancourt; it is used under the Creative Commons Attribution-ShareAlike 3.0 Unported License. You may redistribute it, verbatim or modified, providing that you comply with the terms of the CC-BY-SA.
New Poems
People who read Chris G. Vaillancourt also read
Like a Dangling Rock
What is this passion
that so fills my soul?
This insisting urge to seek the
hidden pathways of my mind?
Like a dangling rock that
threatens to fall,
I am on edge waiting
for a message,
or a path to follow.