Christian Lacdael
Christian Lacdael
(Bury St. Edmunds, England)
Biography of Christian Lacdael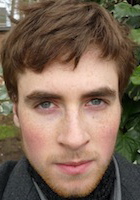 A love of folklore, Anglo-Saxon verse and an archaic Britain, ever guides my efforts at writing verse. I have particular interest in writing narrative poems of British legends and customs, lest we forget.

Christian Lacdael's Works:

Nature Poetry Collection - https: //onedrive.live.com/redir? resid=1396AC7C155704F0! 2751&authkey=! ABZtYKJ73rsHX7s&ithint=file%2cpdf?
Children's Rhyme
If you think she cast a hex,
Then administer a test,
Tie her fingers to her toes,
And find out whether she floats,
If she doesn't let her go,
If does then to the gallows,
But don't forget to stake her heart,
Lest her spirit can embark.