Biography of Constantinos Grigoriadis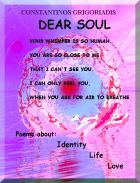 'When my voice cannot describe with words my feelings
Then I open the door inside me
and the fantasy drives my thoughts
to make my feelings words.
Where the words use the philoshophy
to make you see the world
with the eyes of my soul
and my poems speak to your heart.'

(Constantinos Grigoriadis is a Greek writer - poet.
Born in Thessaloniki-Greece.
A number of his poems have been translated in many languages and have been included in Anthologies, Post Cards, Web Sites for Poetry etc...}

A new book (DEAR SOUL) with Constantinos Grigoriadis' poems is already out for sell.
The poems of this book contain themes about Intentity, Life, Death and Love.
A part of the poetic themes in this book are imaginary,
other parts are based on the confessions from people around the writer about their lives...
and a small part of the themes contain the personal thoughts, expiriences and views of the writer.

Copyright by Constantinos Grigoriadis © All rights reserved

Constantinos Grigoriadis's Works:

DEAR SOUL - MIA CARA ANIMA
This page is based on the copyrighted Wikipedia Constantinos Grigoriadis; it is used under the Creative Commons Attribution-ShareAlike 3.0 Unported License. You may redistribute it, verbatim or modified, providing that you comply with the terms of the CC-BY-SA.
People who read Constantinos Grigoriadis also read
We singing just for you
Look at the stars they see you.
Feel the stars they touch you.
Hear the stars they singing.
How much they love you!
Only for you they singing.
And i sing with the stars together,
Just for you.