Biography of Courtney Steele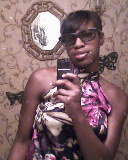 I am Courtney Steele I'm anything but a poet I'm an instrument of God so I can convey ideas to others. Poetry for me is what I go through and situations and circumstances around me translated into a short story produced by my imagination sometimes so vivid that I can not bypass so I write them down.
This page is based on the copyrighted Wikipedia Courtney Steele; it is used under the Creative Commons Attribution-ShareAlike 3.0 Unported License. You may redistribute it, verbatim or modified, providing that you comply with the terms of the CC-BY-SA.
Reflection
I don't cry often when I do it is serious sometimes my soul cries when no one seems to be hearing me,
Often I am delirious and quite mysterious leaves your mind in awe and my thoughts are deep within,
No need to pretend but as I look around I am in search of a friend,


I see people as well their disguise the pain, the hurt, and the fakeness that comes with their lies,
Ignorance I despise and I often bypass the truth it is easy to judge another now take a look at you,
How long has it