Dana Gioia
Dana Gioia
(24 December 1950 / Hawthorne, California)
Biography of Dana Gioia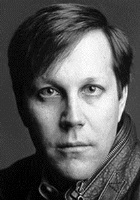 Michael Dana Gioia is an American writer, critic and poet. He retired early from his career as a corporate executive at General Foods to write full-time. From January 29, 2003, until January 22, 2009, he was chairman of the National Endowment for the Arts (NEA), the U.S. government's arts agency, and has worked to revitalize an organization that had suffered bitter controversies about the nature of grants to artists in the late 1980s and early 1990s. In August 2011, Gioia became Judge Widney Professor of Poetry and Public Culture at the University of Southern California in Los Angeles, California.

He has sought to encourage jazz, which he calls the only uniquely American form of art, to promote reading and performance of Shakespeare and to increase the number of Americans reading literature. Before taking the NEA post, Gioia was a resident of Santa Rosa, California, and before that, of Hastings-on-Hudson, New York.

Early Years

Michael Dana Gioia —his surname is pronounced "JOY-uh"— was born in Hawthorne, California, the son of Michael Gioia and Dorothy Ortez. His younger brother is jazz historian Ted Gioia. Gioia grew up in Hawthorne, "speaking Italian in a Mexican neighborhood", he said. His father was the son of immigrants from Sicily and his mother was a native Californian of Mexican heritage. He attended Junípero Serra High School in Gardena, California.

He earned his B.A. from Stanford University in 1973, an M.A. from Harvard University in 1975, and an M.B.A. from Stanford Business School in 1977. From 1971-73, he was editor of Sequoia Magazine and then its poetry editor from 1975-77.

After college, he joined General Foods Corporation and served as vice-president of marketing from 1977 to 1992. He was on the team that invented Jell-O Jigglers. From 1977-79, he was literary editor of Inquiry Magazine and served as its poetry editor from 1979-83. For the academic years 1986-89, he was a Visiting Writer at Wesleyan University.

Personal Life

On February 23, 1980, he and Mary Elizabeth Hiecke (born May 26, 1953) were married. They had three sons, Michael Jasper Gioia (who died in infancy); Michael Frederick "Mike" Gioia; and Theodore Jasper "Ted" Gioia. His poem Planting a Sequoia is based on his real experience of losing his newborn son soon after he was born.

Resignation from General Foods

In 1992, Gioia resigned from his position at General Foods to write full-time. But even while there he was writing and producing several books of poetry. He won the Frederick Bock Award for poetry in 1986. His 1991 poetry collection The Gods of Winter won the 1992 Poets' Prize. Gioia is classed as one of the "New Formalists", who write in traditional forms and have declared that a return to rhyme and more fixed meters is the new avant-garde. He is a particular proponent of accentual verse.

Writing Full Time

After becoming a full-time writer, Gioia also served as vice-president of the Poetry Society of America from 1992 and as music critic for San Francisco magazine from 1997. He also wrote the libretto of the opera Nosferatu (2001).

Gioia objects to how marginalized poetry has become in America. He believes that university English departments appropriated the field from the public:

The voluntary audience of serious contemporary poetry consists mainly of poets, would-be poets, and a few critics. Additionally, there is a slightly larger involuntary and ephemeral audience consisting of students who read contemporary poetry as assigned course work. In sociological terms, it is surely significant that most members of the poetry subculture are literally paid to read poetry: most established poets and critics now work for large educational institutions. Over the last half-century, literary bohemia had been replaced by an academic bureaucracy.

Poetry

It was as a poet that Gioia first began to attract widespread attention in the early 1980s, with frequent appearances in The Hudson Review, Poetry, and The New Yorker. In the same period, he published a number of essays and book reviews. Both his poetry and his prose helped to establish him as one of the leading figures in the New Formalist movement, which emphasized a return to traditional poetic techniques such as rhyme, meter, and fixed form, and to narrative and non-autobiographical subject matter.

As a result, Daily Horoscope (1986), his first collection, was one of the most anticipated and widely discussed poetry volumes of its time. Its contents—like those of the two subsequent collections that Gioia has thus far published—range widely in form, length and theme: traditional forms and free verse; lyrics, meditations, and mid-length narratives; deeply personal poems and poems drawn from myth, history, and the other arts. Among its more notable—and widely reprinted—pieces are "California Hills in August", "In Cheever Country", and "The Sunday News".

The Gods of Winter (1991) is in many ways a deeper and darker book than its predecessor. It contains "Planting a Sequoia", his most direct engagement of the tragic loss of his infant son, as well as two long dramatic monologues, "Counting the Children", in which an accountant has a disturbing interaction with a grotesque doll collection, and "The Homecoming", whose narrator explains his motivations for committing murder and the effects that his violent acts have had upon him. Simultaneously published in Britain, it is one of the few American volumes ever chosen as the main selection of the U.K. Poetry Book Society.

Gioia's third collection, Interrogations at Noon (2001) was the winner of the 2002 American Book Award. (It is surely no coincidence that each book's title contains a temporal reference, given the importance of time and its passing as a theme in Gioia's poetry.) Its varied contents include a suite of translations from the contemporary Italian poet Valerio Magrelli and two excerpts from Gioia's translation of Seneca's Hercules Furens, amid many original poems in which contemplative and occasionally wistful notes predominate, as in the concluding stanza of "Summer Storm": "And memory insists on pining / For places it never went, / As if life would be happier / Just by being different."

His poetry has appeared in The Norton Anthology of Poetry, The Oxford Book of American Poetry, and many other anthologies. They have been translated into French, German, Italian, Spanish, Russian, Romanian, Bulgarian, Chinese, and Arabic. His poetry has been set to music, in styles ranging from classical to jazz and rock, by—among others—Ned Rorem, Dave Brubeck, Paquito D'Rivera, and Alva Henderson; song cycles based on his poems have been composed by Stefania de Kenessey, Lori Laitman, and Paul Salerni. Gioia has also written the libretti for the operas Nosferatu (2001; music by Alva Henderson) and Tony Caruso's Last Broadcast (2005; music by Paul Salerni).

Gioia has received ten honorary doctorates, as of 2011. In 2005, Dana Gioia received the John Ciardi Award for Lifetime Achievement in Poetry. In 2010, Gioia was announced as the year's recipient of the Laetare Medal from the University of Notre Dame, an honor traditionally given to an American Roman Catholic in recognition of outstanding service to the Church and to society. In 2008, Gioia was inducted into the College of Fellows of the Dominican School of Philosophy and Theology.

Dana Gioia's Works:

Poetry

Daily Horoscope (1986)
The Gods of Winter (1991)
Interrogations at Noon (2001)

Criticism

Can Poetry Matter? (1991)
Barrier of a Common Language: An American Looks at Contemporary British Poetry (Poets on Poetry) (2003)
Disappearing Ink: Poetry at the End of Print Culture (2004)

Translation

Eugenio Montale's Motteti: Poem's of Love (translator) (1990)
The Madness of Hercules (Hercules Furens) (translator). Included in Seneca: The Tragedies, Volume II, published by Johns Hopkins (1995)

Edited

New Italian Poets (editor, with Michael Palma) (1991)
Certain Solitudes: On the Poetry of Donald Justice (editor, with William Logan) (1998)
California Poetry: From the Gold Rush to the Present (California Legacy) (editor, with Chryss Yost and Jack Hicks) (2003)
The Misread City: New Literary Los Angeles (editor, with Scott Timberg) (2003)

Contributor

My California: Journeys by Great Writers (contributor / 2004)
This page is based on the copyrighted Wikipedia Dana Gioia; it is used under the Creative Commons Attribution-ShareAlike 3.0 Unported License. You may redistribute it, verbatim or modified, providing that you comply with the terms of the CC-BY-SA.
The Next Poem
How much better it seems now
than when it is finally done–
the unforgettable first line,
the cunning way the stanzas run.

The rhymes soft-spoken and suggestive
are barely audible at first,
an appetite not yet acknowledged
like the inkling of a thirst.