Biography of Dash Black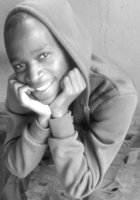 Loading...
This page is based on the copyrighted Wikipedia Dash Black; it is used under the Creative Commons Attribution-ShareAlike 3.0 Unported License. You may redistribute it, verbatim or modified, providing that you comply with the terms of the CC-BY-SA.
Emancipate Yourself
Fly high in the sky like a falcon.
Then beautify the atmosphere like a butterfly.
Come down to earth little angel and see,
the mountains, the valleys, the lakes and seas.

Sing soft like a bird in the morning,
and not like a woman in mourning.
Smile all day and never shade a tear,
for that is cowardly fear.