David Shoestring
David Shoestring
(Birmingham)
Biography of David Shoestring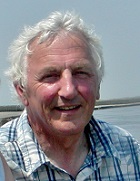 I like the idea of using poems to add a third or even a fourth dimension to a picture or painting, taking the reader into the picture and sometimes back in time.
In the poems and verses I try to input verbal rhythms and speech patterns, tell a story or make comments about current events, political topics and day to day happenings. Sometimes humorous; sometimes sarcastic; and sometimes slightly poignant and sad ……
-
Much of my early life was spent living in Handsworth, a suburb of Birmingham in the UK and have since lived in a variety of locations varying from the water's edge to bleak moorland; from villages to riot-torn Handsworth. I'm a news-addict with a deep interest in politics, and for a time was the Political Cartoonist for a respected Regional Daily Newspaper.
-
Nowadays, being 'of a certain age' I enjoy travel (especially to France) , small campervans and motor sport, hence the book ' Shoestring's Grand Tour ' - which combines these interests in a very personal and light-hearted view of day-to-day living in France and Italy on a tight budget.

Poetry & Verse:
The 'Cornishman' at Snow Hill Station
Webury Beach
Marks & Sparks
Email
Hornby Trains
Life of Cards
Oscar Night - 'Lust to Dust'
Sunny Jim
King of the Western Sea
The Hot-Water Bott'All
We Are What We Were
The Night Before Christmas
The odd Hundred Thousand pounds
The Division Bell
Old Money
New Money
The 'Thunderer'

Book: 'Shoestring's Grand Tour'
(France, St.Tropez, Monaco F1 Race, Italy, Caravans, Vintage cars & Normandy WW2 beaches - all on a Shoestring budget!)


Website: www.davidshoesting.com

David Shoestring's Works:

'Shoestring's Grand Tour'- a lighthearted look at France

Website: www.davidshoestring.com
Email
I've just sent a message out into the ether.
Over the 'Net'; down the wire; into the air.
How it works; where it goes, I really don't know
And to be honest, I really don't care.
-
I just felt the need to communicate.
I needed to know that someone was there.
And that's the beauty of the new technology,
You can do it all without leaving your chair.