Derek R. Audette

(June 16th,1971 / Hull, Quebec, Canada)
Biography of Derek R. Audette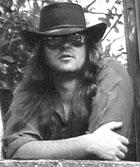 Http: //DerekAudette.OttawaArts.Com

From the liner notes of 'Alive In The House Of The Monkey King', Published by GatorDawg Promotions:

Derek R. Audette has been called one of Canada's most promising and potentially important young artists. He was born in Hull, Quebec Canada to a French Canadian father and English Canadian mother in June of 1971. Throughout his entire life he has lived either in the city of Ottawa, Ontario or somewhere within the surrounding rural area. He is an accomplished musician and his work as a painter in abstract styles; photographer, and a maker of short films have also achieved recognition. Alive In The House Of The Monkey King is Derek R. Audette's second published book and his first published collection of poetry. He currently resides within the city of Ottawa with his wife Anna, where he practices all forms of his art and maintains a personal web page located at: Http: //DerekAudette.OttawaArts.Com, where more information regarding the artist and his work may be found.

Derek R. Audette's Works:

Alive In The House Of The Monkey King
(Scheduled for publication in Feb. '05)

NAME(S) : *Audette, Derek R.,1971-

TITLE(S) : Alive in the house of the monkey king / written by Derek R. Audette; photography & illustration by Derek R. Audette

PUBLISHER: Ottawa: Gator Dawg Promotions,2005.
NUMBERS: Canadiana: 20049074040
ISBN: 0-9684734-1-5: $22.95
CLASSIFICATION: LC Call no.: PS8601 U35 A64 2005
Dewey: C811/.6 22
This page is based on the copyrighted Wikipedia Derek R. Audette; it is used under the Creative Commons Attribution-ShareAlike 3.0 Unported License. You may redistribute it, verbatim or modified, providing that you comply with the terms of the CC-BY-SA.
A Song for the Worms
Longer still they tear at my fetid heart
with minds that suffer like a dew draped leaf,
and through grand halls lined with bitter demur
my ersatz body is slowly produced.
In this garden of ubiquitous pain
they bear witness to this decrepit act.
I am no longer a child of the earth,
but a beast of famine who hungers not.