Biography of Diane Hine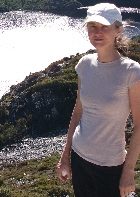 They defied impossibility, embraced improbability.
With brilliant audacity, collective perspicacity
and stunning ingenuity, they shared their 'Curiosity'.
Thanks to N.A.S.A. and a nation's generosity.
This page is based on the copyrighted Wikipedia Diane Hine; it is used under the Creative Commons Attribution-ShareAlike 3.0 Unported License. You may redistribute it, verbatim or modified, providing that you comply with the terms of the CC-BY-SA.
People who read Diane Hine also read
Sonnet 1: Hypothetical
If freshly cloned, with memories intact
Unable hence to occupy one ground
Our senses would not duplicate exact
the information beaming from around.
A plentitude of photons would collide
(Read physics to explain precisely how)
And steadily our shared thoughts would divide
To render subtle change in either brow.
But over time our paths may fly apart