Dilip Chitre
Dilip Chitre
(17 September 1938 – 10 December 2009 / Gujarat / India)
Biography of Dilip Chitre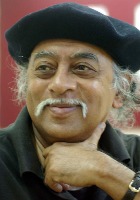 Dilip Purushottam Chitre (Marathi: दिलीप पुरुषोत्तम चित्रे) was one of the foremost Indian writers and critics to emerge in the post Independence India. Apart from being a very important bilingual writer, writing in Marathi and English, he was also a painter and filmmaker.

Biography

He was born in Baroda on 17 September 1938. His father Purushottam Chitre used to publish a periodical named Abhiruchi which was highly treasured for its high, uncompromising quality. Dilip Chitre's family moved to Mumbai in 1951 and he published his first collection of poems in 1960. He was one of the earliest and the most important influences behind the famous "little magazine movement" of the sixties in Marathi. He started Shabda with Arun Kolatkar and Ramesh Samarth. In 1975, he was awarded a visiting fellowship by the International Writing Programme of the University of Iowa in Iowa City, Iowa in the United States. He has also worked as a director of the Indian Poetry Library, archive, and translation centre at Bharat Bhavan, a multi arts foundation, Bhopal. He also convened a world poetry festival in New Delhi followed by an international symposium of poets in Bhopal.

Works on Poetry

His Ekun Kavita or Collected Poems were published in the nineteen nineties in three volumes. As Is,Where Is selected English poems (1964-2007) and "Shesha" English translation of selected Marathi poems both published by Poetrywala are among his last books published in 2007. He has also edited An Anthology of Marathi Poetry (1945–1965). He is also an accomplished translator and has prolifically translated prose and poetry. His most famous translation is of the celebrated 17th century Marathi bhakti poet Tukaram (published as Says Tuka). He has also translated Anubhavamrut by the twelfth century bhakti poet Dnyaneshwar.

Film Career

He started his professional film career in 1969 and has since made one feature film, about a dozen documentary films, several short films in the cinema format, and about twenty video documentary features. He wrote the scripts of most of his films as well as directed or co-directed them. He also scored the music for some of them.

Awards and Honors

He worked as an honorary editor of the quarterly New Quest, a journal of participative inquiry, Mumbai.

Among Chitre's honours and awards are several Maharashtra State Awards, the Prix Special du Jury for his film Godam at the Festival des Trois Continents at Nantes in France in 1984, the Ministry of Human Resource Development's Emeritua Fellowship, the University of Iowa's International Writing Program Fellowship, the Indira Gandhi Fellowship, the Villa Waldberta Fellowship for residence given by the city of Munich, Bavaria, Germany and so forth. He was D.A.A.D. ( German Academic Exchange) Fellow and Writer-in-Residence at the Universities of Heidelberg and Bamberg in Germany in 1991–92. He was Director of Vagarth, Bharat Bhavan Bhopal and the convenor-director of Valmiki World Poetry Festival ( New Delhi,1985) and International Symposium of Poets ( Bhopal, 1985), a Keynote Speaker at the World Poetry Congress in Maebashi, Japan (1996) and at the Ninth International Conference on Maharashtra at Saint Paul, Minnesota, USA in 2001 and Member of the International Jury at the recent Literature festival Berlin, 2001.
He was member of a three-writer delegation ( along with Nirmal Verma and U. R. Ananthamurthy) to the Soviet Union (Russia, Ukraine, and Georgia), Hungary, the Federal Republic of Germany and France in the spring and summer of 1980 and to the Frankfurter Buchmesse in Frankfurt, Germany in 1986; he has given readings, lectures, talks, participated in seminars and symposia, and conducted workshops in creative writing and literary translation in Iowa City, Chicago, Tempe, Paris, London, Weimar, Saint Petersburg, Berlin, Frankfurt, Konstanz, Heidelberg, Bamberg, Tübingen, Northfield, Saint-Paul/Minneapolis, New Delhi, Bhopal, Mumbai, Kochi, Vadodara, Kolhapur, Aurangabad, Pune, Maebashi, and Dhule among other places.
He travelled widely in Asia, Africa, Europe, and North America as well as in the interiors of India; been on the visiting faculty of many universities and institutions, a consultant to projects. He was the Honorary President of the Sonthhheimer Cultural Association, of which he was also a Founder-Trustee.

Death

After a long bout with cancer, Dilip Chitre died at his residence in Pune on 10 December 2009.

Dilip Chitre's Works:

In Marathi

Kavita, Mouj Prakashan, Mumbai, 1960
Orpheus, Mouj Prakashan, Mumbai,1968; 2nd Ed: Shabdalay Prakashan, Srirampur,2010
Sheeba Raneechya Shodhaat, Majestic Prakashan, Mumbai,1969
Kavitenantarchyaa Kavita, Vacha Prakashan, Aurangabad,1978
Chaavyaa; Pras Prakashan, Mumbai, 1983
Dahaa By Dahaa, Pras Prakashan, Mumbai, 1983
Mithu Mithu Porat ani Sutak, Saket Prakashan, Aurangabad,1989
Tirkas Ani Chaukas, Lok Vangmay Griha, Mumbai;1980;2nd Ed: Shabdalay Prakashan, Srirampur,2010
Punha Tukaram, S.K.Belvalkar, Pune, 1990; 2nd edition: Popular Prakashan, Mumbai, 1995; 3rd edition:Popular Prakashan, Mumbai, 2001
Shatakaanchaa Sandhikaal, Lok Vangmay Griha, Mumbai
Bhau Padhye Yanchyaa Shreshtha Kathaa ( Editor), Lok Vangmay Griha, Mumbai, 1995
Ekoon Kavita-1, Popular Prakashan, Mumbai, 1992; 2nd edition:1995
Ekoon Kavita-2, Popular Prakashan; Mumbai;1995
Ekoon Kavita-3, Popular Prakashan; Mumbai
Chaturang, Popular Prakashan, Mumbai;1995
Tukobache Vaikunthagaman,Shabdalay Prakashan, Srirampur,2010
Agatikanche Jaagatikikaran, Shabdalay Prakashan, Srirampur,2010
Kavi Kai Kaam Karto(in Gujarati and English translation), Poetrywala, Mumbai,2010

In English

An Anthology of Marathi Poetry (1945–1965) (Editor), Nirmala-Sadanand, Mumbai, 1968
Ambulance Ride, Self, Mumbai, 1972
Travelling In A Cage; Clearing House; Mumbai; 1980
The Reasoning Vision: Jehangir Sabavala's Painterly Universe, Introduction and Notes on the paintings by Dilip Chitre
Tata-McGraw-Hill, New Delhi, 1980
Says Tuka: Translation of Tukaram, Penguin, 1991
Tender Ironies: A Tribute To Lothar Lutze (Editor), Manohar, New Delhi, 1994
Shri Jnandev's Anubhavamrut: The Immortal Experience of Being, Sahitya Akademi, New Delhi, 1996
The Mountain, Vijaya Chitre, Pune, 1998
No-Moon Monday On The River Karha, Vijaya Chitre, Pune, 2000
Virus Alert: Poems of Hemant Divate,( as translator) Mumbai: Poetrywala, 2003
Namdeo Dhasal: Poet of the Underground: Poems 1972-2006 (as Translator), Navayana Publishing, Chennai, 2007
As Is, Where Is: Selected Poems, Poetrywala, Mumbai,2008
Shesha: Selected Marathi poems in English Translation, Poetrywala, Mumbai, 2008

In Hindi

Pisati ka Burz: Dileep Chitre ki Chuni Huvi Kavitaayen, translated by Chandrakant Deotale, Rajkamal, New Delhi, 1987

In Gujarati

Milton-na Mahaakaavyo, translated by Yashwant Dashi and the author, Parichay Pustakavali, Mumbai, 1970

In German

Das Fallen des Banyanbaums, translated by Lothar Lutze, Botschaft der Bundesrepublik Deutschland, New Delhi, 1980
BOMBAY/MUMBAI: Bilder einer Mega-Stadt ( with Henning Stegmuller and Namdeo Dhasal) Translated by Lothar Lutze, A-1 Verlag, Munchen
Worte des Tukaram, Translated by Lothar Lutze, A=1 Verlag, Munchen
Lotos Blatter 1: Dilip Chitre: Aus dem Englischen und dem Marathi, translated by Lothar Lutze, Proben Indische Poesie:Lotos Verlag Roland Beer; Berlin,2001
Kavya Vishva Shreni: Marathi: Dileep Chitre, translated by Jaya Mehta, Gujarat Sahitya Academy, Gandhinagar
This page is based on the copyrighted Wikipedia Dilip Chitre; it is used under the Creative Commons Attribution-ShareAlike 3.0 Unported License. You may redistribute it, verbatim or modified, providing that you comply with the terms of the CC-BY-SA.
Flesh Tint
Like a painting by Velazquez
A woman stands
Alone in the frame
Touched by the brush of light
Blossoming.

How did
Flesh Tint reflect Naples Yellow
In this greenish blue room?