Dipankar Sadhukhan
Biography of Dipankar Sadhukhan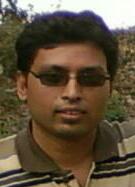 I am Dipankar Sadhukhan from Kolkata, India. First and foremost I am ever indebted to my beloved parents without whom I am no more to explore the world through my words. I am a hard working, determined, highly ambitious and peace loving person. To fulfil my ambition I work with heart. I am a Teacher (since 27/09/2008) in English in Badamtala High School (H.S.) , Kolkata- 700137. I was graduated with a BA (Honours in English) from University of Calcutta. Then I did a professional course (Degree) , Bachelor of Education from St. Xavier's College, Kolkata. Gradually I completed MA in English (Literature) & Bengali (Linguistics) . I've never believed in any particular religion but I have faith in God and I respect every religion. My soul and heart always hate to compromise with the unjust.

Poetry is my passion. Since my childhood I have been having much pleasure from Literature, specially from Poetry. So Poetry is my soul.Poetry is my life. I have authored 'Your Love, My Inspiration', my maiden Poetry Book containing 50 beautiful poems of which most of them are love poems. They have come straight from my heart. I love my city, Kolkata which is the Cultural Capital of India.

My favourite Quotations:

''Live with the Truth. Live for the Truth.'
''Never compromise with the unjust''-
Dipankar Sadhukhan.
Poet & Teacher (English) ,
Kolkata, India.
9th October,2013.
07. Sailor
Clad in garments of eternal Love,
My soul sails the silver craft
In the ocean of perpetual Love
Between Heaven and the earth.

Minds dance with Heavenly joy.
Sitting silently in the silver craft,
Two hearts wrapped in Divine Love,
Caress, embrace and kiss each other.