Dipankar Sadhukhan
Biography of Dipankar Sadhukhan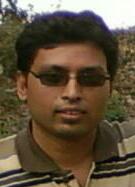 I am Dipankar Sadhukhan from Kolkata, India. First and foremost I am ever indebted to my beloved parents without whom I am no more to explore the world through my words. I am a hard working, determined, highly ambitious and peace loving person. To fulfil my ambition I work with heart. I am a Teacher (since 27/09/2008) in English in Badamtala High School (H.S.) , Kolkata- 700137. I was graduated with a BA (Honours in English) from University of Calcutta. Then I did a professional course (Degree) , Bachelor of Education from St. Xavier's College, Kolkata. Gradually I completed MA in English (Literature) & Bengali (Linguistics) . I've never believed in any particular religion but I have faith in God and I respect every religion. My soul and heart always hate to compromise with the unjust.

Poetry is my passion. Since my childhood I have been having much pleasure from Literature, specially from Poetry. So Poetry is my soul.Poetry is my life. I have authored 'Your Love, My Inspiration', my maiden Poetry Book containing 50 beautiful poems of which most of them are love poems. They have come straight from my heart. I love my city, Kolkata which is the Cultural Capital of India.

My favourite Quotations:

''Live with the Truth. Live for the Truth.'
''Never compromise with the unjust''-
Dipankar Sadhukhan.
Poet & Teacher (English) ,
Kolkata, India.
9th October,2013.
42. A Vagabond
I have no money, no identity,
No fame, no property.
A Vagabond I am,
Wandering and wandering
To a path unknown.
Different people every day I see.
Some walk smartly,
Some dressed brightly,
Some are kind, some are not.