Don Haney

(5-19-1967 / Dallas, Texas)
Biography of Don Haney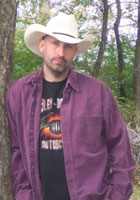 I am a middle age man who started writing poetry in 2005 but have not written anything in 4 years. I have my father as an inspiration for he also writes poetry. I am a machine operator for a baby care manufacture and a web page designer by hobby. Which I hope to soon to swap those around. I love the Japanese style of writing mostly Haiku but as of recent I am working on new forms of poetry, at least to me in writing them.

Don Haney's Works:

I have 1 published book on LuLu.Com titled 'Haiku / Senryu.
This page is based on the copyrighted Wikipedia Don Haney; it is used under the Creative Commons Attribution-ShareAlike 3.0 Unported License. You may redistribute it, verbatim or modified, providing that you comply with the terms of the CC-BY-SA.
Original - Cowboy's Life
Livestock Shows
Rodeos
Country Roads
Fishing Holes
Evinrudes
Inner Tubes
Ten Point Bucks
Pickup Trucks
Bulls and Blood
Dust and Mud
Buckle Bunnies
Bar Room Honey's
John Deere Greene
Old Blue Jeans
Bar Room Brawls
And Dance Halls