Dr Hitesh Sheth
Dr Hitesh Sheth
(Birth Place: Earth)
Biography of Dr Hitesh Sheth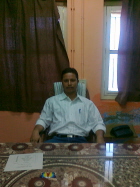 I am a student of psychiatry and might always remain so......I love to practise karate and yoga......As a scorpio, I am passionate about the things I do......Sometimes I jot down the thoughts on a paper which people call, a poetry...... Biography......His story was too common to be told......Thanks for visiting this page......
www.facebook.com/drdivinescorpio
Sub Prime Crisis
I asked to the God:
Why America is on a verge of bankruptcy?
Why all are facing a drought of currency?
Do you think anyone should bank on banks?
Which have sunk a people of all class and ranks.
What quake produced a tsunami of sub prime crisis?
Can you explain it to the men, rich in vices?
Which is a better pill, communism or capitalism?
Can you illumine it with a dose of pragmatism.