Dr. Yogesh Sharma
Dr. Yogesh Sharma
(1-7-1959 / india)
Biography of Dr. Yogesh Sharma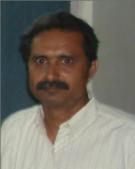 . The poet is a teacher who believes in universal brotherhood. He loves humanity, social justice, secularism, woman's empowerment and nature. He believes in realism. His poems are far away from the flight of fantasy and imagination. He is very close to realism of life, society and world in his poems.

Dr. Yogesh Sharma's Works:

Influence of Bhagawad Gita on Matthew Arnold
New Poems
Stand Up Draupadi……
Stand up Draupadi, get hold of your attire,
Lord Krishna won't come to protect your honor.

Expecting so much help, I can feel it
Trusting the media fixed and sold to waste it.
Crying and seeking help from closed ear,
Dushashans are sitting in courts, can't hear.
Like a bunch of shameless and the such
How can protect the shame of others, so much?