Dr. Yogesh Sharma
Dr. Yogesh Sharma
(1-7-1959 / india)
Biography of Dr. Yogesh Sharma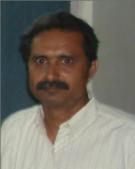 . The poet is a teacher who believes in universal brotherhood. He loves humanity, social justice, secularism, woman's empowerment and nature. He believes in realism. His poems are far away from the flight of fantasy and imagination. He is very close to realism of life, society and world in his poems.

Dr. Yogesh Sharma's Works:

Influence of Bhagawad Gita on Matthew Arnold
New Poems
Love: A Gift Of God
A lovely flower, of lovely tones for the heart,
Yearn to hold tightly and preserve it in the mind,
To soothe the eyes and cool the passions,
Like a rainbow, pleasing, a crying child.

Fragrance of breath thrills the sinking heart,
Delights the mind and love blooms afresh.
Beautiful souls are friends on all times,
In bliss, fun, amusement, distress and grief.