Edwin James Brady
Biography of Edwin James Brady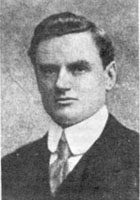 Early Life

Edwin James Brady, journalist and writer, was born on 7 August 1869 at Carcoar, New South Wales, son of Irish parents, Edward John Brady, mounted police constable, and his wife Hannah, née Kenny. His father had migrated first to the United States of America where he had fought in the civil war. Brady was educated at Oberon Public School, then in Washington D.C. where his family settled in 1881. Homesick they returned to Sydney next year, and Brady went to two Catholic schools, then in 1884 passed the junior public examination from St Patrick's Boys' School. He worked on the Ben Buckler sewer and matriculated, but only attended a few evening lectures at the University of Sydney.

Brady became interested in sailing-ships while a timekeeper for Dalgety & Co. Ltd on the Sydney wharves; he refused to be sworn in as a special constable during the maritime strike of 1890 and was dismissed. He became secretary of the Australian Socialist League, a member of the Labor Electoral League, editing its newspaper, the Australian Workman, and joined a clerks' union. He was narrowly defeated for Labor pre-selection in West Sydney in 1890. Through these activities he became friendly with many early socialists and Labor supporters. Between attempts at farming Brady worked as a dramatic reporter for Truth, wrote features for the Sunday Times, the Freeman's Journal, and the Bird O'Freedom, and edited the Arrow from 1896. On 30 October 1890 at Paddington he had married Marion Cecilia Walsh, whom he divorced for adultery on 28 May 1895. At Smithfield on 12 June he married a divorcee Annie Creo Dooley (d.1940), née Stanley, but they soon separated and she, reputedly, refused him a divorce. From about 1902 he lived with Norma Linda Dalby (d.1936).

Poetry

Brady's verse appeared in the Bulletin from May 1891. The publication of his first volume, The Ways of Many Waters, in 1899, reinforced his many literary friendships with Henry Lawson, A. G. Stephens, J. F. Archibald, and others. After a wagon journey from Sydney to Townsville in 1899-1900, Brady bought a half-share in the Grafton Grip, and edited it until 1903. Wearying of country life, he sold out, set up the Commonwealth Press Agency in Sydney and briefly edited the Labor paper, Australian Worker, until he moved his press agency to Melbourne in 1906. He edited there a short-lived literary monthly, the Native Companion, in which he published Katherine Mansfield's first short stories and contributions from Katharine Susannah Prichard. 1911 was a prolific year for Brady: he published an account of his wagon trip as The King's Caravan (London); a book, River Rovers (Melbourne), about a trip in an open boat down the Murray from Albury; another volume of collected verse, Bells and Hobbles (Melbourne); and Tom Padgin, Pirate (Sydney), illustrated by Lionel Lindsay. Next year he visited parts of south-east Asia, and soon after set up camp at Mallacoota, Victoria, to write free of distractions. His only very profitable book was Australia Unlimited (Melbourne, 1918), a comprehensive survey of Australia's primary industries.

Later Life

Brady spent the rest of his life at Mallacoota, with intervals in Melbourne. His interests were wide-ranging: he attempted to establish a south-coast railway, timber-mills, and gold-mines; to grow medicinal plants; to sell a mechanical voting machine; to set up a commercial publishing venture with Randolph Bedford, and a co-operative for some of Melbourne's unemployed; but he continually reverted to publicity work and journalism. He wrote The Land of the Sun (London, 1924) after a visit to Queensland, and contributed weekly to Labor Call (Melbourne) in the early 1930s under the pseudonym 'Scrutator'. He ghosted several books on economics, compiled a biography, Doctor Mannix, Archbishop of Melbourne (1934), and wrote many unpublished short stories and poems. Brady received Commonwealth literary fellowships, in 1941 to write Two Frontiers (Sydney, 1944), an account of his father's adventures, and, in 1944, for a biography of Archibald which was not published. His most substantial literary achievement is as a balladist of the sea—John Masefield, for one, keenly appreciated his energy and enthusiasm.

Brady died in hospital at Pambula, New South Wales, on 22 July 1952 and was buried with Anglican rites in Mallacoota West cemetery. He was survived by three sons and three daughters, and by his third wife Florence Jane, née Bourke, an artist, whom he had married on 10 June 1942 at St Augustine's Church of England, Mentone, Victoria, and by their daughter.

Edwin James Brady's Works:

Poetry

The Ways of Many Waters (1899)
The Earthen Floor (1902)
The Ways of Many Waters (1909)
Bushland ballads (1910)
Bells and Hobbles (1911)
The House of the Winds (1919)
Wardens of the Seas (1933)

Prose

Sydney Harbour (1903)
This page is based on the copyrighted Wikipedia Edwin James Brady; it is used under the Creative Commons Attribution-ShareAlike 3.0 Unported License. You may redistribute it, verbatim or modified, providing that you comply with the terms of the CC-BY-SA.
The Wardens Of The Seas
Like star points in the ether to guide a homing soul
Towards God's Eternal Haven; above the wash and roll,
Across and o'er the oceans, on all the coasts they stand
Tall seneschals of commerce, High Wardens of the Strand --
The white lights slowly turning
Their kind eyes far and wide,
The red and green lights burning
Along the waterside.