Edwina Reizer

(12/22/1937 / LAKEWOOD, NJ)
Biography of Edwina Reizer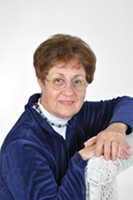 I am 76 years old and have been writing poetry for seven years. I taught music in the public schools in NJ for 25 years. I am married and have 2 sons and 3 grandchildren. Many of my poems are in 16 published books and I have also published 5 children's books written in poetic form. To purchase my books please visit: http: //stores.lulu.com/reizerj
I have written 170 songs and 149 of them are available for you to listen to along with videos on You tube.com They are under my name Edwina Reizer.

Edwina Reizer's Works:

16 poetry books Reflections on Living BK.1 and Bk.2
The Unfolding Beauty of Poetry, A Flicker in the Dark,
The Journey, The Perplexity of my Poet's Mind, Unmasked Thoughts, It's All About Love, Poetry For the Soul, Shorts, The Highways of Life Vol.1 and Volume 2, Love, Sweet and Bittersweet and Collected Poems. by Edwina Reizer, and my newest Thoughts of Poetry
New Poems
It's Too Late
Oh my God, where did the time go?
As I think back on all those years
the tears start to flow.
But crying can't bring them back I know.

I, a young and foolish girl
was afraid to give life a whirl.
Outwardly brave, inside a timid soul,
only half alive, never quite whole.