Biography of Ekaterina Polischuk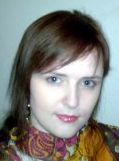 I have a very strange and different life. It`s full of mystery and miracles. I began to write when I was 14, after the recovering from illness... I wrote in Russian and Ukrainian about angels, lonely people`s souls, relationship between people, life treasure etc. Soon my poems were transformed into stories and novels... Then, I started writing English. And that`s my own miracle because it isn`t my native language, but I truly love it and hope that my poems reading will give a lot of pleasure and good thoughts to all readers.
This page is based on the copyrighted Wikipedia Ekaterina Polischuk; it is used under the Creative Commons Attribution-ShareAlike 3.0 Unported License. You may redistribute it, verbatim or modified, providing that you comply with the terms of the CC-BY-SA.
People who read Ekaterina Polischuk also read
Believe in Dreams
Believe in dreams when you`re alone,
When nothing makes your soul smile,
If you don`t want to speak by phone
And read by own written file.
Believe in dreams when tears are falling down,
When people hate you for unusual thought.
Believe in dreams if you`re a funny clown,
Believe like all philosophers were taught.
Believe in dreams and sun will shine so bright,