Elena Sandu
Biography of Elena Sandu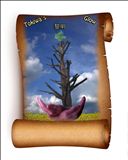 Am I a poet? Myself as such, how could I see?
I have no clue of how to write good poetry...
My tiny words, are nothing more then little tries
to have a whisper of my heart
(I only changed a habit, that of speaking to a wall,
the paper seems to listen to me more.)
.
Most of time I write fast and free, just like I love to dance, ignoring imposed rules the only thread followed being my soul, my heart, memory trying to catch on paper few moments of unconsciously instinctual breathing.
Stilness
A mind's cage
is anger
A heart's padlock is
hate
A body's laziness,
palsy
A soul's executioner's,
greed.
Sweet moon, don't let me have
such need!