Elena Sandu
Biography of Elena Sandu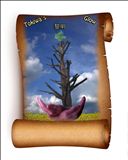 Am I a poet? Myself as such, how could I see?
Have I one clue of how to write poetry? ...
My tiny words, are nothing more then little tries
to have a whisper of my heart(I only changed a habit,
quit speaking to my walls, the paper seems, or could now listen to me more) .
.
Most of time I write fast and free, just like I love to dance, with no imposed rules the only thread to follow I wish to be my soul, my heart, and my memories trying to be caught, frozen one moment more, one smallest part, one tiny dot of those almost unconscious instinctual thoughts coming from between the worlds.
New Poems
Sibiu, My Love!
Yes, yes, yes, indeed!
Sibiu, my lovely city
It is the One
On which, by taking walks
At quiet times,
It filled my heart with.. Beauty!
Yes! ! ..Sibiu would make you feel apart
Of present's ugly world
That never stops to grow