Eli Spivakovsky
Biography of Eli Spivakovsky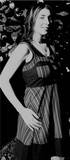 I'm a friendly and free-thinking lass inspired by creativity in all its forms. Artists that I find enchanting right now are Andrei Tarkovsky, Jorge Luis Borges, Gauguin, Truffaut, Sonic Youth, Darren Aronofsky, Xu Bing, Peter Hoeg, Robert Bresson, Magic Dirt, My Bloody Valentine, Funkadelic/Parliament, Shostakovich, Albert Lamorisse, Palle Mikkelborg, Trilok Gurtu, Tom Waits, Charlie Chaplin, (the soulful) and Shlomo Carlbach... Also fascinated by horticulture (and ikebana) , social justice, film theory, mysticism, symbology, not-for-profit orgs, tsumami kanzashi, Kanja and Hebrew scripts and language in general, and really enjoy the 'Australian Centre for Moving Images'... I also find inspiration through my Grandfather and Great Uncle: Tossy and Jascha Spivakovsky...I sing, write songs, play guitar and drums, ... My poetry is characterised by its accessiblity and strong imagery.
Panacea
The panacea of our love
delineated at the hour of its rising
the sparks in our eyes turned to waterdrops
and we swam to each other.