Biography of Elizabeth Lindberg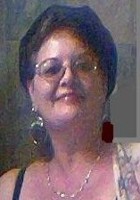 I'm an artist, musician, writer. Born in Maine, raised in Michigan, where I currently reside. I am currently single. I have some of my artwork on my personal website here: http: //www.webspawner.com/users/elizabethlindberg/index.html
I am basically a happy person, with a good sense of humor. I have ultimate faith in God, he takes good care of me. I've been playing music most of my life.
I play guitar, banjo, mandolin, and a little piano.
I love to compose music, and I'm grateful for the gifts of creativity that God has given me, and enjoy sharing them.
This page is based on the copyrighted Wikipedia Elizabeth Lindberg; it is used under the Creative Commons Attribution-ShareAlike 3.0 Unported License. You may redistribute it, verbatim or modified, providing that you comply with the terms of the CC-BY-SA.
Crash With Destany
Slumbers in the rock,
hidden from the moon,
quiet stalks with grace,
sharp fangs in that furface,

do not wake the giant
it is far too soon,
blood curdling howls,
hunger motivates,