Elizabeth Sheaffer
Elizabeth Sheaffer
(February 4,1990 / Mt. Airy, NC)
Biography of Elizabeth Sheaffer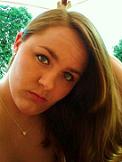 I write for myself. I'm a selfish writer... I write to express what I feel inside, what I hide away when the sun drives away the night's serene cover... I write the words I cannot express in daylight, the words I can never speak aloud... I write to make sense of myself and of the world around me. I write for release.
Young Love
There once was a young man of twenty,
in love with a girl of sixteen.
He thought they'd last forever,
but the girl was simply too green.

She told him, 'I love another;
my love for you has faded.'
Her admission broke his heart,
and left his outlook jaded.