Biography of Ellen Glasgow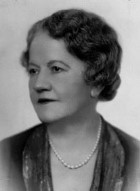 Ellen Anderson Gholson Glasgow (April 22, 1873 - November 21, 1945) was an American novelist. Born in Richmond, Virginia, she published her first novel when she was 24 years old. Glasgow's first novel, The Descendant (1897) was written in secret and published anonymously. She destroyed part of the manuscript after her mother died in 1893. The work was delayed after her brother-in-law and intellectual mentor, George McCormack, died the following year. It was not until absorbing the losses of these two deaths that she returned to her novel, completing it in 1895. The novel features an emancipated heroine who seeks passion rather than marriage. Although it was published anonymously, the novel's authorship became well known the following year, when her second novel, Phases of an Inferior Planet (1898), announced on its title page, "by Ellen Glasgow, author of The Descendant." With this novel, Glasgow began a literary career encompassing four and a half decades that comprised 20 novels, a collection of poems, short stories, and a book of literary criticism. Her final novel, In This Our Life, received the Pulitzer Prize for the Novel in 1942. Her autobiography, A Woman Within, appeared posthumously in 1954.
This page is based on the copyrighted Wikipedia Ellen Glasgow; it is used under the Creative Commons Attribution-ShareAlike 3.0 Unported License. You may redistribute it, verbatim or modified, providing that you comply with the terms of the CC-BY-SA.
The Freeman
'Hope is a slave; Despair is a freeman.'


A VAGABOND between the East and West,
Careless I greet the scourging and the rod;
I fear no terror any man may bring,
Nor any god.

The clankless chains that bound me I have rent,