Elsie Cole
Biography of Elsie Cole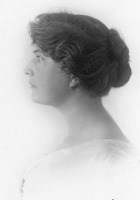 Elsie Clarice Cole was born in Melbourne from English parents. Her grandfather, mother and brother all composed poetry and both her brother and her grandfather achieved publication. Cole was educated at the South Melbourne College and her principal, the poet John Bernard O'Hara influenced her nature poetry. Cole's first publication was in The Bulletin when she was still at school, which The Bulletin published despite her not having put any address on her contribution.
This page is based on the copyrighted Wikipedia Elsie Cole; it is used under the Creative Commons Attribution-ShareAlike 3.0 Unported License. You may redistribute it, verbatim or modified, providing that you comply with the terms of the CC-BY-SA.
The Herb Of Grace
Find some freckled fern seed to sprinkle in your shoes
And you may step invisible down the peopled street,
Or curve about the apple boughs like swallows if you choose,
Lifted by the elfin wings that tingle in your feet.
Oh, you may cull a-many sweets with fern seed iin your shoe!
But leave alone the rue--
Little boy, little girl,
Leave alone the rue!