Biography of Emmanuel George Cefai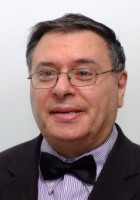 Emmanuel George Cefai born on the 12th March 1955 in Victoria, Gozo, Malta is a Maltese philosopher and poet who published first a number of philosophical critiques in the Daily News (in past years and formerly a daily newspaper in Malta) and where Cefai himself developed his own philosophical system. Cefai wrote the poems published in Poem Hunter chiefly between 2004 and 2006. Emmanuel George Cefai graduated as Doctor of Laws from the Faculty of Laws in the University of Malta in 1977. The lyrical poems of Cefai contain a variety of emotions, from joy to sadness, from elation to depression, as well as deep thought and verses of sheer beauty. Cefai can indeed be called a poet of beauty, he is also a consummate depicter of human emotions. His poems are mainly in blank verse, but nevertheless demonstrate a musical rhythm almost throughout.
This page is based on the copyrighted Wikipedia Emmanuel George Cefai; it is used under the Creative Commons Attribution-ShareAlike 3.0 Unported License. You may redistribute it, verbatim or modified, providing that you comply with the terms of the CC-BY-SA.
People who read Emmanuel George Cefai also read
Ditty
Ah! Youth sweet youth!
When we much younger were
How clearer the vision stood
When we at the fields looked
Or trod the summer sea
With oars and paddled boats
Or else swam in low depths
And basked on the warm sand
In some half-hidden cove