Ernest Favenc
Ernest Favenc
(21 October 1845 – 14 November 1908 / Walworth / Surrey / England)
Biography of Ernest Favenc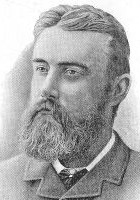 Ernest Favenc was an explorer of Australia, a journalist and historian.

Personal Life

Favenc was born in Walworth, Surrey, England. Of Huguenot descent, he was the son of Abraham George Favenc, merchant, and his wife Emma, née Jones. He was educated at the Werderscher Gymnasium, Berlin and at Temple College, Cowley, Oxfordshire.

Favenc arrived in New South Wales in 1864, and, after being in the colony for about a year, in a commercial position, he afterwards worked in the pastoral industry in the frontier squatting districts of Queensland.

Favenc died at his Darlinghurst home in Sydney on 14 November 1908, and was survived by his wife and family

Exploration

In July 1878 he was selected to explore the country along the western border of Queensland to Darwin to see evaluate the possibility of connecting the Queensland Railways to Port Darwin. The journey took him six months, and he reported that such a line would be feasible.

In the early 1880s also undertook expeditions in the country to the south of the Gulf of Carpentaria and north-west of Western Australia.

Writing

Favenc's first publication was The Great Austral Plain in 1887, The Last of Six: Tales of the Austral Tropics appeared in 1893, followed by The Secret of the Australian Desert (a short novel) in 1895, Marooned on Australia and The Moccasins of Silence, both in 1896.

Favenc also wrote under the pseudonym of "Dramingo", often for The Queenslander, and was an accomplished pencil sketcher. He also published romances, children's stories and verse as well as several books on exploration, the most extensive being The History of Australian Exploration from 1788 to 1888.

On the original launch of this book in 1888 the Australian Daily Telegraph reported...

"The History of Australian Exploration is an important one and however diverse may have been the aims, ideas and successes of those by whom the work was done,...Ernest Favenc's rather formidable volume...gathers together all those scattered memorials merging it into a unity of a great labour. Favenc was himself an explorer and treats his subject not in a perfunctory way, but as one who feels the wild charm and the magical attraction of the unknown... "

Ernest Favenc's Works:

A Romance of Kangaroo Point (1876). (written as by "Dramingo" and first published in The Queenslander)
The Great Austral Plain (1887)
The History of Australian Exploration from 1788 to 1888 (1888)
The Last of Six: Tales of the Austral Tropics (1893)
The Secret of the Australian Desert (1895)
The Moccasins of Silence (1896)
Marooned on Australia (1896)
The Explorers of Australia and their Life-work (1908)
This page is based on the copyrighted Wikipedia Ernest Favenc; it is used under the Creative Commons Attribution-ShareAlike 3.0 Unported License. You may redistribute it, verbatim or modified, providing that you comply with the terms of the CC-BY-SA.
In The Desert
A cloudless sky o'erhead, and all around
The level country stretching like a sea—
A dull grey sea, that had no seeming bound,
The very semblance of eternity.

All common things that this poor life contained
Had passed from me, leaving no sign nor token;
My footfall first broke stillness that had reigned
For centuries unbroken.