Faiz Ahmed Faiz
Faiz Ahmed Faiz
(13 February 1911 - 20 November 1984 / Sialkot / British India)
Biography of Faiz Ahmed Faiz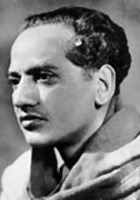 Faiz Ahmad Faiz was an influential left-wing intellectual, revolutionary poet, and one of the most famous poets of the Urdu language from State of Pakistan. A rising figure and notable member of the Progressive Writers' Movement (PWM), Faiz was an avowed Marxist-communist, long associated member of Russian-backed Communist Party and was a recipient of Lenin Peace Prize by the Soviet Union in 1962. Despite being repeatedly accused of atheism by the political and military establishment, Faiz's poetry suggested his complicated relationship with religion in general and Islam in particular. He was, nevertheless, inspired by South Asia's Sufi traditions.

Faiz was controversially named and linked by Prime minister Liaquat Ali Khan's government for hatching the conspiracy against Ali Khan's government, being Plot's central leader which was supported by left-wing military sponsor Major-General Akbar Khan. Having being arrested by Military police, Faiz among with others received a maximum sentence by JAG branch, although his sentence was commuted after the assassination Liaquat Ali Khan in 1951.

Biography

One of the foremost poets in the Indian sub-continent, Faiz Ahmed Faiz was born in Sialkot in Pakistan. He studied philosophy and English literature, but poetry and politics preoccupied him more than anything else. For writing poetry that always antagonizes the ruling Žlite and challenges colonial and feudal values, like such rebellious writers as Ngugi of Kenya and Darwish of Palestine, Faiz had to go to jail repeatedly during both colonial and postcolonial times in Pakistan. Inspired by the Marxist ideology, Faiz's poetry exhibits a strong sense of commitment to lower-class people, yet it always maintains a unique beauty nourished by the long, rich tradition of Urdu literature. His love poems are as appealing as his political poems, and he is considered primarily responsible for shaping poetic diction in contemporary Urdu poetry. Which poems deal with love, and which ones with politics? What evidence is there that Faiz is a courageous poet? What is his attitude towards loneliness and death?

Awards

Faiz was the first Asian poet to be awarded the Lenin Peace Prize, the Soviet Union's equivalent to the Nobel Prize in 1963. He used traditional meters and rhythms to compose poetry that was a blend of Romanticism and realism. Before his death he was also nominated for the Nobel Prize.

Faiz Ahmed Faiz's Works:

Naqshe Faryadi
Daste Saba
Zindan Nama
Mizan, a collection of literary articles
Daste-Tahe-Sang
Sare-Wadiye Seena
Shame-Shehr Yaran
Merey Dil Merey Musafar
Nuskha-Hai-Wafa
Pakistani Culture (Urdu and English)
This page is based on the copyrighted Wikipedia Faiz Ahmed Faiz; it is used under the Creative Commons Attribution-ShareAlike 3.0 Unported License. You may redistribute it, verbatim or modified, providing that you comply with the terms of the CC-BY-SA.
Speak
Speak, your lips are free.
Speak, it is your own tongue.
Speak, it is your own body.
Speak, your life is still yours.

See how in the blacksmith's shop
The flame burns wild, the iron glows red;
The locks open their jaws,
And every chain begins to break.