G. S. Shivarudrappa
G. S. Shivarudrappa
[Rashtrakavi] (7 February 1926 - / Shikaripura, Shivamogga district, Karnataka / India)
Biography of G. S. Shivarudrappa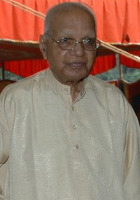 Dr. G.S. Shivarudrappa (Kannada: ಜಿ.ಎಸ್. ಶಿವರುದ್ರಪ್ಪ) is a Kannada poet, writer and researcher who was awarded the title of Rashtrakavi by the Government of Karnataka on November 1, 2006.

Early Life

G.S. Shivarudrappa was born in Shikaripura, in Shivamogga district of Karnataka. His father was a school teacher. He did his primary and secondary schooling in Shikaripura.by anoop.s.manikanta christ school 7th std

Mr. Shivarudrappa who is a known "Navodaya" poet has made a lasting contribution to the Kannada literature.

Born on February 7, 1926, Mr. Shivarudrappa has worked as a Kannada professor at the Maharaja College of Mysore and later at the Postgraduate Kannada Department of Bangalore University. He received the Central Sahitya Akademi Award in 1984 for his literary contribution. He has also bagged several awards including the Karnataka State Sahitya Academy and Soviet Land Nehru Award. He presided over the Akhil Bharatiya Kannada Sahitya Sammelana held in Davanagere in 1992.

Education

Shivarudrappa pursued his B.A. in 1949 and M.A. in 1953 from University of Mysore, having secured gold-medals on three occasions. He was a student and follower of Kuvempu and was heavily inspired by Kuvempu's literary works and life.

In 1965, G.S. Shivarudrappa secured a doctorate for his thesis Soundarya Sameekshe (Kannada: ಸೌಂದರ್ಯ ಸಮೀಕ್ಷೆ), written under the guidance of Kuvempu.

Professional Life

Dr. G.S.S started his career in 1949 as a lecturer in Kannada language at the Mysore University. On receiving the invitation from Hyderabad's Osmania University in 1963, he joined that university as a reader and the head of the Kannada department. He continued to serve in Osmania University till 1966.

In 1966, G.S.S joined the Bangalore University as a professor. He was later elected as the director of the university and he continued to contribute in Kannada Study Center (Kannada: ಕನ್ನಡ ಅಧ್ಯಯನ ಕೇಂದ್ರ) at the university. It was during his administration as a director that the department of Kannada in the university was converted to Kannada Study Center.

Rashtrakavi

Dr. G.S.S was honoured with the title of Rashtrakavi (Sanskrit for Poet of the Nation) by the Government of Karnataka during the Suvarna Karnataka (Golden Jubilee celebrations of Karnataka) occasion on November 1, the Kannada Rajyotsava day, 2006. He was the third Kannada poet to be honoured with this prestigious title of Rashtrakavi, after his mentor and guide Kuvempu, and Govinda Pai.

Awards and Honours

Soviet Land Nehru Award - 1973
Kendra Sahithya Academy Award - 1984 (for the work, Kaavyartha Chintana)
Pampa Award - 1998
President of 61st All India Kannada Sahithya Sammelana, happened in Davanagere
Karnataka Sahithya Academy Honorary Award - 1982
Nadoja Award from Kannada University
Honorary Doctorate from Bangalore University and Kuvempu University
Honoured as a Rashtrakavi (Poet of the Nation) - 2006
Sahitya Kala Kaustubha-2010

G. S. Shivarudrappa's Works:

Poem Collections
Saamagaana
Cheluvu-Olavu
Devashilpi
Deepada Hejje
Anaavarana
Tereda Baagilu
Gode
Vyakthamadhya
Teerthavaani
Kaartika
Kaadina Katthalalli
Preeti illada mele
Chakragati

Prose/research Works
Parisheelana
Vimarsheya Poorva Pashchima
Soundarya Sameekshe (Ph.D. thesis)
Kaavyaartha Chintana
Gatibimba
anuranana
Pratikriye
Kannada Sahithya Sameekshe
Mahakavya Swaroopa
Kannada Kavigala Kaavyakalpane
Samagra Kannada Sahitya Charitre - A history of Kannada literature and language and its growth over the centuries
Kuvempu-a Reappraisal - A biographical work on Kuvempu, done for Government of Karnataka

Travelogues
Moscowdalli 22 dina (22 Days in Moscow) - Winner of Soviet Land Nehru Award.
Englandinalli Chaturmaasa (Four months in England)
Americadalli Kannadiga (Kannadiga in America)
Gangeya Shikharagalalli (In the mouths of the river Ganges)
This page is based on the copyrighted Wikipedia G. S. Shivarudrappa; it is used under the Creative Commons Attribution-ShareAlike 3.0 Unported License. You may redistribute it, verbatim or modified, providing that you comply with the terms of the CC-BY-SA.
A Question And An Answer
"Father, why don't you have a thumb
on your right hand?" Out of curiosity
the little child asked one day.

"It was offered to my God, son. That's why
I miss that finger, that's all."

"Offered to God?
What kind of God was he to ask for your thumb?