Geetha Jayakumar
Geetha Jayakumar
[Sumi Nair] (Kerala Palakkad)
Biography of Geetha Jayakumar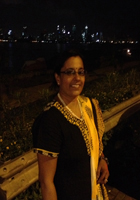 ©ALL RIGHTS RESERVED BY GEETHA JAYAKUMAR. All poems are Copyrighted.

I am Geetha Jayakumar, also wrote the poems in other name Sumi Nair. My love for writing and sharing poems has brought me here. Pomes are my passion.

Burning Lamp!
- - - - - - - - -
Be the burning lamp in other's lives
Keep burning till your wick
Doesn't sip the last drop of oil!

Keep Smiling!
- - - - - - - - -
Live a life In such a way....
Nothing could fade your beautiful smile.
If death comes knocking
Embrace it with grace!

After you die.....
Tears should not be less in
You loved ones eyes!

Tears falling from your eyes
Went on flowing like stream into the sea
That sea water never reduced its level!
Do You know why?
Tears are our knowledge
Which enrich the river evergreen and flowing!

Life is the beginning
Death is not the end but in fact the beginning!
Plant new seeds,
That will sprout into new beginning!
- - - - - - - - - - -

You Give Me.....
- - - - - - - - -
You give me.....
Old, young, baby, feeble or dying Body
My Soul is so bright and powerful
I will brighten it whatever you give.

Muskurathey Raho!
- - - - - - - - - - - -
Zindagi is tarah jiyo ki
Cherey ki muskurahaat kabhi bhi kam na ho
Agar Mauth bhi aa jaaye saamney
Mauth aaney ka gam na ho aur
Tumharey chhah ney walon kay
Aankhon mein aason kam na ho!

Aankhon say behthi aasuyein
Ek dhara ki tarah samandar mein jaa kar is kadar Miley
Ki kabhi bhi samandar ka pani kam na ho!

Zindagi shuruvaath hain toh Mauth anth bhi nahin
Naye beej Jo aapney boyae
Woh ek nayi zindagi ki shuruvaath hai!

©ALL RIGHTS RESERVED BY GEETHA JAYAKUMAR 2014
© 2014

I will definitely read your poems as long as time permits!
Whenever I read any poem, I always gain something from it.
I believe I am learning always something new from it!
So I will tell Thanks for sharing your knowledge!

God Bless Us All!
Thank You All From My Heart!
Mom
Mom is beautiful when she holds her babe closed in her arms.
Mom is lovable when she nurture her child.
Child is grateful when she holds her aged mom's hand.
Years passes by but the relation of mom child is evergreen.
To mom her child is always a child.
Mom is the one who forgives you, understands you, listens to you patiently.
Mom is the one who waits for you.
Mom is just a call away from you.